Donate
Preserve a Voice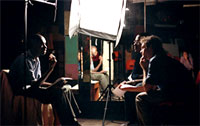 Voices of Rwanda has been filming both in Rwanda and the United States since 2005. In 2007, we began recording testimonies full-time in Rwanda. We continue to be inspired by the individuals who share their stories with us, but only with your continued support can we ensure that this vital history is preserved.

Please become a supporter to contribute to preserving this vital history today.

Support VOR:
Become a supporter ($100)
Fund a translation ($125)
Sponsor a testimony ($500)
Giving Societies:
Ibuka Supporters ($2K-10K)
Amateka Patrons ($10K-20K)
The Voices Circle ($20K-100K)
For more information about giving societies please contact us.
Contributions to Voices of Rwanda, a tax-exempt organization under Section 501(c)(3) of the Internal Revenue Code, are deductible for computing income and estate taxes.
To donate via postal mail, please make checks payable to "Voices of Rwanda" and mail to:
Voices of Rwanda
7203 54th Avenue S
Seattle, WA 98118
USA