Posts Tagged '18th Commemoration'
Wednesday, April 18th, 2012
Many thanks to Jacqueline Murekatete and the MCW team for coordinating such a moving commemoration and for including VOR in the program.

Co-panelists Zachary Kaufman, Valentina Iribagiza, VOR's director Taylor Krauss, and Robert Van Lierop, paid tribute to those killed in the genocide, while simultaneously reminding all in attendance of the ongoing challenges survivors must bear, 18 years after the 1994 Genocide Against the Tutsi.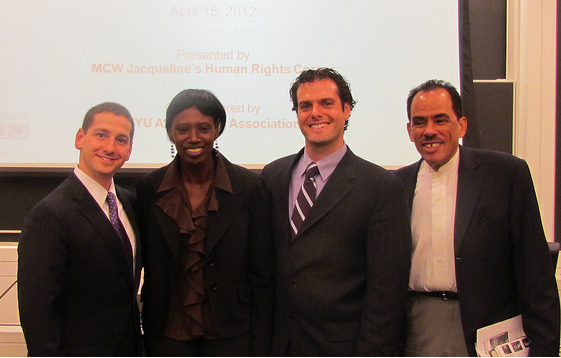 Tags: 18th Commemoration, Genocide Against the Tutsi, Jacqueline Murekatete, MCW, Miracle Corners of the World, NYU Law School, Robert Van Lierop, Tutsi, Valentina Iribagiza, Valentine Iribagiza, Zachary Kaufman
Posted in Commemoration, Panel | No Comments »
Monday, April 9th, 2012
VOR testimonies presented at the 18th Commemoration of the Genocide Against the Tutsi in partnership with Ibuka-France and the Mémorial de la Shoah on April 10th, 19h, in the Edmond J. Safra auditorium (map): 17, rue Geoffroy-l'Asnier 75004 Paris.

Discussion moderated by Yves Ternon to follow: Marcel Kabanda, president of Ibuka-France; Régine Waintrater and Janine Altounian, psychoanalysts; Frédéric Jacquet, VP of Médecins du Monde; and Taylor Krauss, director of VOR.

Followed by screening of film "Sonatubes – Nyanza" by Arnaud Sauli featuring Jeanne Uwimbabazi's testimony.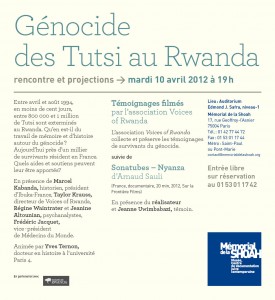 Tags: 18th Commemoration, France, Frédéric Jacquet, Genocide Against the Tutsi, Ibuka-France, Jeanine Altounian, Marcel Kabanda, Mémorial de la SHOAH, Régine Waintrater, Yves Ternon
Posted in Commemoration, Panel, Screening | No Comments »
Thanks to Constitutional Hill, Cape Town Holocaust Centre, Columbia University, Concordia University, Bates College, UNISA, JAFFA, Habonim, Albuquerque Academy, Friends Academy, Hillel International, Project One, Audiobraille, The AJC, and George Washington University for hosting Voices of Rwanda.
To inquire about bringing Voices of Rwanda to your school, email us.
Thank you to Bartle Bogle Hegarty for hosting our first photograph exhibit.
We were thrilled to be part of Limmud South Africa in Cape Town, Johannesburg, and Durban, and thank Limmud for including us.