Posts Tagged 'Yale University'
Friday, May 20th, 2011
Catch Nadya Labi's article "Confronted by History" about VOR in the May/June edition of Yale's Alumni Magazine.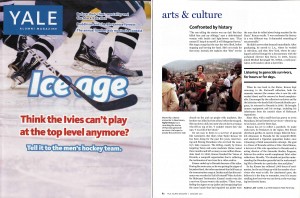 Tags: Antoinette, David Simon, Fortunoff Video Archives, Ken Burns, Michael Kavanagh, Nadya Labi, RED, Scarlett Johansson, silverback gorillas, Yale Alumni Magazine, Yale Archive, Yale Genocide Studies Program, Yale University, Yale's Fortunoff Video Archive for Holocaust Testimonies
Posted in Press | No Comments »
Wednesday, September 8th, 2010
The Westport Country Playhouse's panel "So the World Will Know: Attempts to Document Genocide" on October 28, after the 8 p.m. performance of The Diary of Anne Frank will feature Joanne Rudof from The Fortunoff Video Archive for Holocaust Testimonies at Yale University, and Taylor Krauss from VOR. This event is free and open to the public. (Westport, CT) Map
Tags: Anne Frank, Fortunoff Video Archives for Holocaust Testimonies, Joanne Rudoff, Westport Country Playhouse, Yale University
Posted in Panel | No Comments »
Wednesday, March 31st, 2010
Screening of testimonies and discussion with VOR's director Taylor Krauss at Yale University, New Haven, CT, LC 102, Linsly-Chittendon Hall 63 High Street, New Haven, CT 06511, April 22th, 6pm
Map
Sponsored by Yale Film Society, The Fortunoff Video Archive for Holocaust Testimonies, Yale Hillel, and the The Yale Initiative for the Study of Anti-Semitism (YIISA)
Tags: Fortunoff Video Archives, Screening, Testimonies, Yale Film Society, Yale Hillel, Yale University, YIISA
Posted in Events | No Comments »
Thanks to Constitutional Hill, Cape Town Holocaust Centre, Columbia University, Concordia University, Bates College, UNISA, JAFFA, Habonim, Albuquerque Academy, Friends Academy, Hillel International, Project One, Audiobraille, The AJC, and George Washington University for hosting Voices of Rwanda.
To inquire about bringing Voices of Rwanda to your school, email us.
Thank you to Bartle Bogle Hegarty for hosting our first photograph exhibit.
We were thrilled to be part of Limmud South Africa in Cape Town, Johannesburg, and Durban, and thank Limmud for including us.