Archive for the 'Press' Category
Sunday, April 7th, 2013
It was an honor for VOR to be included in the 19th National Commemoration hosted by the Rwandan Embassy. VOR's director Taylor Krauss shared his thoughts on the power of testimonies in Rwanda today. Other speakers included Ambassador Eng. James Kimonyo along with testimonies from Tabitha Mugenzi and Kalima Kizito.
(April 7, 2013)
Tags: 19th Commemoration, Alice Umutoni, Augustin Mutemberezi, Chantal Kalisa, Clotilde Mbaranga Gasarabwe, Cynthia Akuetteh, David Mwambari, Edouard Kayihura, Emmanuel Mutangana, Gatsinzi Basaninyenzi, Genocide Against the Tutsi, Immaculate Busingye, Jacqueline Murektate, James Kimonyo, Jason Nshimiye, Jean-Baptiste Rudatsikira, Kalima Kizito, Mutoni Karasanyi, Patricia Crisafulli, Rwandan Embassy to the United States, Rwandan Embassy to the USA, Tabitha Mugenzi, Taylor Krauss, Yvette Rugasaguhunga, Zachary Kaufman
Posted in Commemoration, Panel, Press, Screening, Video | No Comments »
Friday, May 20th, 2011
Catch Nadya Labi's article "Confronted by History" about VOR in the May/June edition of Yale's Alumni Magazine.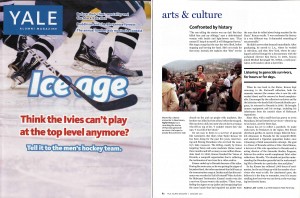 Tags: Antoinette, David Simon, Fortunoff Video Archives, Ken Burns, Michael Kavanagh, Nadya Labi, RED, Scarlett Johansson, silverback gorillas, Yale Alumni Magazine, Yale Archive, Yale Genocide Studies Program, Yale University, Yale's Fortunoff Video Archive for Holocaust Testimonies
Posted in Press | No Comments »
Tuesday, October 12th, 2010
VOR is proud to announce our collaboration with a new Holocaust Museum in Johannesburg. For the last few years VOR has been working with founder Tali Nates to help design part of the permanent exhibition which will feature survivor testimonies from the VOR archive.
Tags: Holocaust Museum, Johannesburg, South Africa, Tali Nates
Posted in Exhibitions, Press | No Comments »
Monday, August 30th, 2010
Tonic.com's Monique Jessen details VOR's efforts in this online feature:
Giving Voice to Survivors of the Rwandan Genocide, August 20, 2010
Tags: Monique Jessen, Rwandan Genocide, Taylor Krauss, tonic, Tonic.com
Posted in Press | No Comments »
Thanks to Constitutional Hill, Cape Town Holocaust Centre, Columbia University, Concordia University, Bates College, UNISA, JAFFA, Habonim, Albuquerque Academy, Friends Academy, Hillel International, Project One, Audiobraille, The AJC, and George Washington University for hosting Voices of Rwanda.
To inquire about bringing Voices of Rwanda to your school, email us.
Thank you to Bartle Bogle Hegarty for hosting our first photograph exhibit.
We were thrilled to be part of Limmud South Africa in Cape Town, Johannesburg, and Durban, and thank Limmud for including us.