Archive for the 'Screening' Category
Tuesday, April 24th, 2012
Thanks to Sister Barbara Kane, O.P., Lindsay Sudeikis, and Katherine Leo for welcoming VOR on campus at Dominican Academy High School. Special thanks to the girls who decided their Genocide Awareness Fund would be contributed to VOR.
(April 24, 2012)
Tags: Dominican Academy High School, Katherine Leo, Lindsay Sudeikis, Sister Barbara Kane
Posted in Conversation, School Visit, Screening | No Comments »
Monday, April 9th, 2012
VOR testimonies presented at the 18th Commemoration of the Genocide Against the Tutsi in partnership with Ibuka-France and the Mémorial de la Shoah on April 10th, 19h, in the Edmond J. Safra auditorium (map): 17, rue Geoffroy-l'Asnier 75004 Paris.

Discussion moderated by Yves Ternon to follow: Marcel Kabanda, president of Ibuka-France; Régine Waintrater and Janine Altounian, psychoanalysts; Frédéric Jacquet, VP of Médecins du Monde; and Taylor Krauss, director of VOR.

Followed by screening of film "Sonatubes – Nyanza" by Arnaud Sauli featuring Jeanne Uwimbabazi's testimony.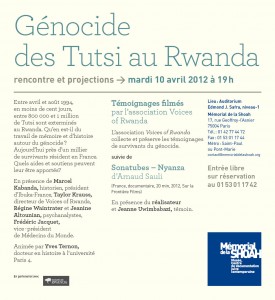 Tags: 18th Commemoration, France, Frédéric Jacquet, Genocide Against the Tutsi, Ibuka-France, Jeanine Altounian, Marcel Kabanda, Mémorial de la SHOAH, Régine Waintrater, Yves Ternon
Posted in Commemoration, Panel, Screening | No Comments »
Sunday, February 19th, 2012
VOR will be hosted by Rutgers University's Center for International Social Work at the School of Social Work in partnership with the Center for African Studies, Rutgers University Libraries, and the Centers for Global Advancement and International Affairs (GAIA Centers) as part of the Technologies Without Borders: Technologies Across Borders series for a screening of testimonies and conversation with VOR's director at 4-5:30pm. Rutgers U., Alexander Library, 4th FL Lect. Hall, CAC.
Click here for directions.
Tags: African Studies, GAIA Centers, Global Advancement, International Social Work, Rutgers University, Technology Without Borders
Posted in Conversation, School Visit, Screening | No Comments »
Tuesday, October 25th, 2011
VOR will be hosted by Columbia University's Center for Oral History for a screening of testimonies and lecture by VOR's director at 6-8pm. Columbia U, International Affairs Building, Room 801. Enter campus at 116th Street, at either Broadway or Amsterdam. Click here for directions. This event is fee and open to the public.
Tags: CCOH, Columbia Center for Oral History, Columbia University, ISERP, OHMA, Oral History Masters of Arts
Posted in Conversation, School Visit, Screening | No Comments »
Thursday, May 19th, 2011
VOR's director will screen testimonies, share personal experiences, and dialogue about Jewish engagement in Africa. Doors open at 6:30pm, program at 7pm.
This event is co-sponsored by AJC's Africa Institute, Dor Chadash, and 3GNY. Register here. Map of 165 E. 56th Street
Tags: 3 Generations New York, 3GNY, AJC, American Jewish Committee, Dor Chadash, Grandchildren of Holocaust Survivors, Jewish Engagement in Africa
Posted in Conversation, Screening | No Comments »
Thanks to Constitutional Hill, Cape Town Holocaust Centre, Columbia University, Concordia University, Bates College, UNISA, JAFFA, Habonim, Albuquerque Academy, Friends Academy, Hillel International, Project One, Audiobraille, The AJC, and George Washington University for hosting Voices of Rwanda.
To inquire about bringing Voices of Rwanda to your school, email us.
Thank you to Bartle Bogle Hegarty for hosting our first photograph exhibit.
We were thrilled to be part of Limmud South Africa in Cape Town, Johannesburg, and Durban, and thank Limmud for including us.